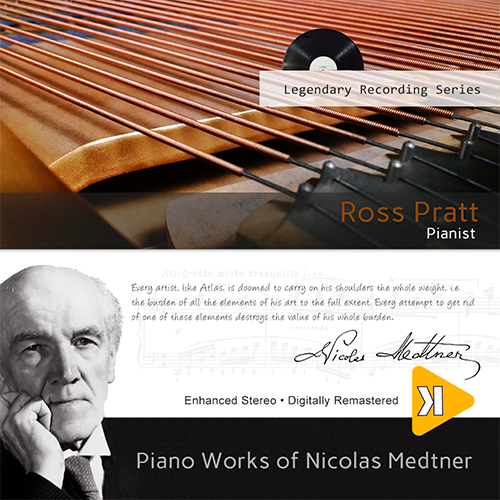 Piano Works of Nicolas Medtner
Ross Pratt, pianist
Nikolai Karlovich Medtner (24 December 1879 – 13 November 1951) was a Russian composer and pianist. A younger contemporary of Sergei Rachmaninoff and Alexander Scriabin, he wrote a substantial number of compositions, all of which include the piano.
His works include fourteen piano sonatas, three violin sonatas, three piano concerti, a piano quintet, two works for two pianos, many shorter piano pieces, a few shorter works for violin and piano, and 108 songs including two substantial works for vocalise.
Ross (Drury) Pratt. Pianist, teacher, b Winnipeg 20 Apr 1916; honorary ARAM ca 1950, honorary FRAM 1959. He studied as a child with Esther Dyson and in his teens with Leonard Heaton, winning the Aikins Memorial Trophy at the 1931 Manitoba Music Competition Festival (Winnipeg Music Competition).
Awarded a scholarship to the RAM, London, he studied 1934-9 with Harold Craxton and in 1939 made his London recital debut at Wigmore Hall and was soloist with the BBC SO under Sir Henry Wood. On his return to Canada Pratt settled in Montreal, giving recitals and appearing with orchestras throughout North America.